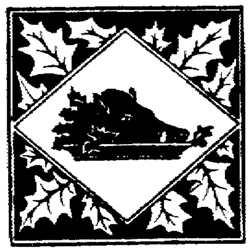 The Boar's Head Carol is the 13th of 15 songs on the Christmas album The Gifts of Midwinter by Ken and Lisa Theriot.
From the liner notes of the album:
The Boar's Head Carol
Words: T.F. Dibdin's Typographical antiquities, 1812
(based on Jan van Wynken's Christmasse Carolles, 1521)
Music: traditional, Queen's College, Oxford
This carol always reminds me of a certain Drachenwald
feast where a boar's head was served to the Prince and the
herald loudly declared "His Highness has the head of a pig!"

The Boar's Head in hand bear I,
Bedecked with bays and rosemary;
And I pray you, my masters, be merry,
Quot estis in convivio:
Chorus:
Caput apri defero;
Reddens laudes Domino.
The Boar's Head, as I understand,
Is the rarest dish in all the land,
Which thus bedecked with a gay garland
Let us servire cantico: (chorus)
Our steward hath provided this
In honor of the King of Bliss,
Which on this day to be servèd is
In Reginensi atrio: (chorus)
Take a listen to the song below – from Ken and Lisa's recording of the song from The Gifts of Midwinter