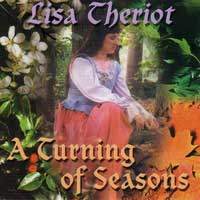 It's Thanksgiving in a couple of weeks, the time of year when we think of the harvest and giving thanks for good food and, well, anything and everything really. And soon, people will also be turning their minds toward Christmas and Christmas music. But nobody ever seems to give any thought to Thanksgiving music – or more specifically, music celebrating autumn and all things harvesty.
Well here is the perfect tune to change that – the song Harvest, by Lisa Theriot from her album A Turning of Seasons. Take a listen to the song below.
Here is the music video for Harvest:

A Turning of Seasons is, as the title suggests, an themed album celebrating all the seasons of the year with songs for each. Lisa originally wanted to put the traditional song, John Barleycorn, in for the harvest season. But she wasn't really happy with any of the extant versions, so she wrote her own, and Harvest is the result. It has since become one of her most popular songs.
There are a couple of other songs for autumn on the album as well – The Weaving Made (written by Victoria Ganger) and The Urge For Going (written by Joni Mitchel).
The Urge For Going
The Weaving Made
Hear and/or buy more songs or the whole album (including a physical CD if you wish) from A Turning of Seasons here.
And to download songs or the full album from iTunes