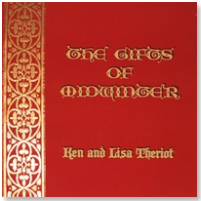 This is the Christmas album by Ken and Lisa Theriot. It is the first Raven Boy Music release by both Ken Theriot AND Lisa Theriot together. In the beginning (ca. 1988) their different song selections and writing styles were different enough that separate "solo" albums made sense.
Then they just kept doing it that way. But since The Gifts of Midwinter is a collection of holiday songs, it seemed a good time to to put out a "Ken and Lisa Theriot" album.
Speaking of the songs, here is how the album is described on CD Baby: Songs you don't hear on every Christmas album, a mix of songs from the secular to the sacred, the medieval to the modern. Two original songs, one cover, and everything else is traditional.
The goal from the beginning was to create an album of unique Christmas songs that wasn't just a rehash of all the same songs you hear everyone else doing. We think we succeeded in that. Even songs you've heard before, like "Gaudete," "Personent Hodie," and "Do You Hear What I Hear?" you probably haven't heard the way they are done here.
Here is a list of songs on the album:
Gaudete (in Latin)
Marmion's Christmas Song
Cantique de Noël (O Holy Night) (in French)
Do You Hear What I Hear?
How Far to Bethlehem?
Riu, Riu (in Spanish)
Lully, Lully (The Corpus Christi Carol)
Drink to the Holly Berry
Noël Nouvelet (in French)
This Endris Night
La Marche Des Rois (in French)
Puer Natus (A Child is Born) (in Latin)
The Boar's Head Carol
Personent Hodie (in Latin)
The Gifts of Midwinter
Take a look and a listen to the songs below:
You can get the physical CD of the Gifts of Midwinter at Amazon here.
To get it on iTunes, well, things are a bit strange with Apple right now. You can get it from Apple Music with the widget below. But if you do not have a subscription to Apple Music, you can click here to see it on Apple Music, then scroll to the bottom of the page where it will say "Also Available in iTunes Store."
Links To Other Streaming Services
BTW, since you cannot get the liner notes anywhere but here (limitations with the manufacturing process we use), we offer them free as a pdf download here: The Gifts of Midwinter liner notes.