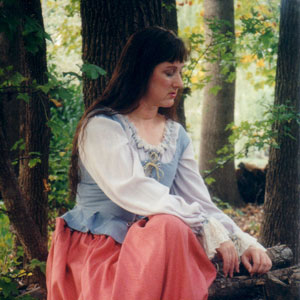 Lisa Theriot may better known to SCA (the Society for Creative Anachronism) members as Adelaide de Beaumont. With her rich voice and strong original songwriting, Lisa Theriot enriches the great bardic traditions of the past.
Her first album – "Up the Great North Road," was a collection of mostly covers of traditional and folk songs. On her last CD "A Turning of Seasons," she not only strengthens old ballads with original music or lyrics, but also incorporates an interesting array of timeless modern songs like Joni Mitchell's "The Urge For Going".
Her newest solo CD "The Keys of Canterbury" is made up of all original songs that distill Chaucer's "Canterbury Tales" into a fabulous collection of unforgettable and addictively catchy songs that still capture the traditional style and feel.
Her most recent CD is a joint project with Ken Theriot – the Christmas album called "The Gifts of Midwinter."
Here are links to her albums on Apple Music: