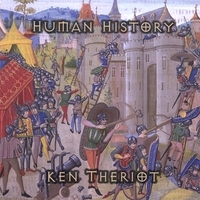 Human History is an album by Ken Theriot that has become one of the most popular albums in the Raven Boy Music catalog. Several songs from Human History have become very popular, such as "Agincourt," "Band of Brothers,"  and "The Feast Song."
Many of the songs on the album tell the story of a well-known historical event from a first-person perspective, told by a character who might have been right there in the middle of the action.
We had already written "Agincourt," and "Band of Brothers," which as the titles might suggest, are about The Battle of Agincourt in 1415. And we'd written "Son of The Sea," which contains the line "I have made human history…." So based on all of that, we decided to call the album "Human History.
On the CD Baby page for the album, it is described as: "Original, infectiously catchy pop-folk songs that tell the stories of famous historical (medieval & renaissance period) events from the point of view of a single character who might have lived through them."
The Songs
Here is a listing of all the songs on the album
1. Band of Brothers
2. To Serve The Lily
3. Agincourt
4. The Minstrel Boy
5. Son Of The Sea
6. The Haggis
7. Hatton Woods
8. King Orfeo
9. Fifty Miles Into The Main
10. The Lie
11. The Feast Song
12. Maldon
Where Can I Get My Copy Of Human History?
Great question:). CD Baby doesn't sell physical CDs any longer. At this point, if you want an actual CD, the best bet is to contact us directly here at the Contact Page.
For digital albums and songs, get them at Apple Music here.