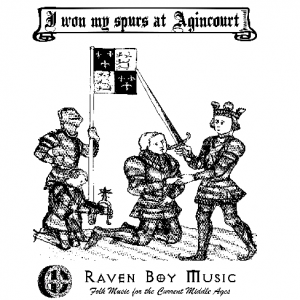 Agincourt, the song –  Ken Theriot, along with his wife Lisa Theriot, have become a highly successful song-writing team. 
They write and perform songs primarily for the international medieval and renaissance re-creation group, The Society for Creative Anachronism (SCA).
As the title implies, the song is about the famous battle fought between the English and French in Oct, 1415. The English army, outnumbered and wretched with fatigue, sickness, and inferior (apparently) equipment, prevail against the fresh, strong but overconfident French army.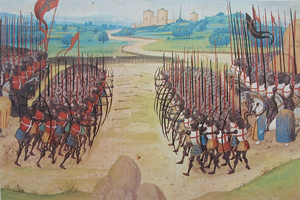 The lessons usually taken from this battle have to do with the triumph of the human spirit and the power of a stirring speech (…we few, we happy few, we band of brothers…) to imbue the underdog with enough fire and motivation to prevail in the face of seemingly overwhelming odds.
Take a listen to Agincourt here:
But there are nuances in the actual history that add even more character to the events surrounding the battle. Ken and Lisa Theriot wanted to avoid using Shakespeare's Henry V as the source of research, and instead turned to every academic history they could find to paint more of a real picture with the Agincourt song. And as is often the case in history, truth can be more interesting than fiction.
Ken and Lisa also wanted to craft a song that people could march along to and sing together, so the song's tempo is set for that purpose. The structure of the song is such that there is a repeating chorus designed to get people singing along. Finally, in the Agincourt song the story is told by a character in the battle, making it seem more immediate and personal.
Not surprisingly, the song has become hugely popular in the world of SCA music and bardic circles around the world.  It appears on the album "Human History", by Ken Theriot.