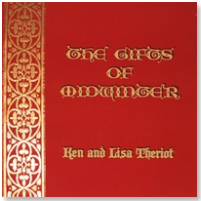 This is the Christmas album by Ken and Lisa Theriot.  You can get the physical CD only at Amazon here: The Gifts of Midwinter. 
You can also download songs or the whole album from iTunes. This link tankes to Apple Music. But if you want to get it from iTunes, just scroll down to the bottom of the page and click where it says "Also available in the iTunes store."
Also, since we made it available digitally directly from our site, you can hear samples of each song and grab those below as well. You can select as many or as few of the songs from the album as you'd like in mp3 format below (you can hear a sample of each song before you decide). Or you can skip to the last item and download the entire album–all the songs plus the liner notes with lyrics (pdf). BTW, since you cannot get the liner notes anywhere but here (limitations with the manufacturing process we use), we offer them free as a pdf download here: The Gifts of Midwinter liner notes.
The album is the first Raven Boy Music release by both Ken Theriot AND Lisa Theriot together. In the beginning (ca. 1988) their different song selections and writing styles were different enough that separate "solo" albums made sense. Then they just kept doing it that way. But since The Gifts of Midwinter is a collection of holiday songs, it seemed a good time to to put out a "Ken and Lisa Theriot" album.
Speaking of the songs, here is how the album is described on CD Baby: Songs you don't hear on every Christmas album, a mix of songs from the secular to the sacred, the medieval to the modern. Two original songs, one cover, and everything else is traditional. The goal from the beginning was to create an album that wasn't just a rehash of all the same Christmas songs you hear everyone doing. We think we succeeded in that. Take a look and a listen to the songs below and we think you will agree.

$0.99

Marmion's Christmas Song
$0.99

Cantique de Noel (O Holy Night)
$0.99

Do You Hear What I Hear?
$0.99

How Far to Bethlehem?
$0.99

Riu, Riu, Chiu
$0.99

Lully, Lully (The Corpus Christi Carol)
$0.99

Drink to the Holly Berry
$0.99

Noël Nouvelet
$0.99

This Endris Night
$0.99

La Marche Des Rois
$0.99

Puer Natus (A Child is Born)
$0.99

The Boar's Head Carol
$0.99

Personent Hodie
$0.99

The Gifts of Midwinter
$0.99

The Gifts of Midwinter – Entire Album
You can get either a CD or a full digital album from CD Baby. Or from iTunes. Of course you can get individual songs from both places as well.