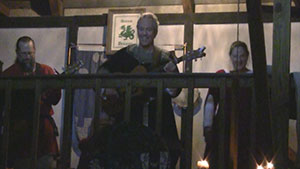 Ken Theriot performs "Soldier of God" live at The Green Dragon Tavern March 12th, 2014. The song is from his new album, "Outlaws and Bystanders."
Joining Ken for the performance are Lisa Theriot, Michele Buzbee, Kevin Valiquette, and Robert Ferrell.
The Green Dragon Tavern is a wonderful live music venue built specially for the medieval-themed annual festival called Gulf Wars, an event of the Society For Creative Anachronism (SCA). It was a perfect place for the release concert for the new album.