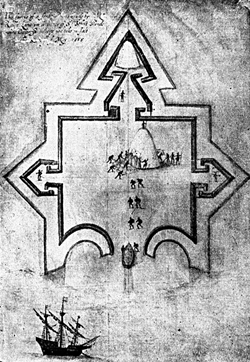 The historical mystery of The Lost Colony of Roanoke is back in the news!  In Britain recently, scholars re-examined an old coastal map from the period (between 1580 and 1590) using modern technology and think they have uncovered some new information.  You can read this article here: www.nytimes.com/2012/05/04/us/map-markings-offer-clues-to-lost-colony.html.
I have been fascinated with the lore surrounding the lost colony since I lived in Virginia a decade ago.  We (Lisa Theriot and I) even wrote the song, Fifty Miles Into The Main (on the CD Human History) about it, whose lyrics are largely based on the excellent book, Roanoke: Solving the Mystery of the Lost Colony, by anthropologist, Lee Miller.
Miller pulled together research from several quarters, including linguistic clues from the Algonquin tribes in what is now coastal North Carolina, information that is rarely included in works positing the fate of the last group of colonists (there were 3 expeditions- the last one consisting of the families who disappeared).  One of her primary theories is one that rings most true, even though it may be less romantic than others.
We found out about the recent article from fans on Facebook who thought of the song when they heard the news.  It's pretty awesome that music can have that sort of power.  Folks have even told us over the past few years that their children had first learned of the lost colony from listening to the song.
You can hear the song below:
Fifty Miles Into The Main – Ken Theriot – from the album Human History
Cheers!
Ken