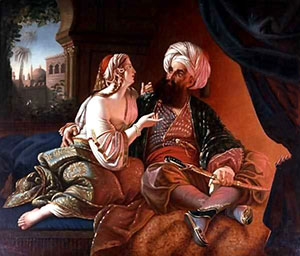 It's true! We finally have a new song recorded and here it is:). The song is called "Tomorrow," and is from the upcoming album, "A Thousand Nights and a Knight" (which will be a Ken and Lisa Theriot album).
She and Ken have been playing the song in their concerts for over a year. So you may have heard it live. but now you can have a studio version to listen to any time. the song is pretty infectious (in a good way, of course)
As the name of the album implies, the song is a reference to the character from the Arabian Nights tales – Shahrazad – who keeps herself alive by telling cliff-hanger stories to her royal husband, who has been cutting off the heads of his previous wives after just one night with them. Clever girl, our Shahrazad:-). Lucky for her that her hubby likes a good yarn and always wants to know what happens in the end.
So enough talk – here is the song. Enjoy! Just click the "play" button on the player below. You can also download it here (right-mouse-click and "save link as" or equivalent for your browser) – our gift to you:-).
If you have any problems with the player on this page, you can stream and/or download from the Reverb Nation player here: https://www.reverbnation.com/lisatheriot/song/24025640-tomorrow