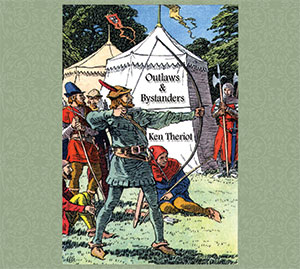 Hi everyone! Ken is was in the studio madly recording and producing the new album, called Outlaws and Bystanders, which was released March 12th of 2014.
At the point I wrote this post (Feb 23rd, 2014), any and all possibilities of procrastination on our part had been eliminated, as the recordings and artwork were out of our hands and now the responsibility of Oasis Disc Manufacturing. They shipped the CDs directly to King's Arrow Ranch on March 10th. Yeah, we cut things fine. Call it a genetic quirk.
So tell us about the album
Like the last album, Human History, this one will be filled with songs about historical characters from history (and in some cases, from legend) who were either declared or outlaws by those in power, or are viewed by history as such; as well as songs about those who were sidekicks or otherwise on the sidelines of great events.
There will, of course, be a Robin Hood song. Some others include Soldier of God about a warrior priest in the service of El Cid (bystander), The Ride of El Cid about The Cid himself (declared an outlaw), Utopia about Sir Thomas More (outlaw – weird to think so huh? But he was executed for treason), and The Dogs of War about Mark Antony of Julius Caesar fame (a little of both outlaw and bystander).
Some other characters appearing on the album will be Vlad Tepes, also known as Vlad III Dracul or Vlad The Impaler (The Dragon), Sir Bewyr from Arthurian legend (Morte D'Arthur, co-written with Jonna Bernstein), William Tell, Johnny Faa, and Joan of Arc.
The album was to be officially released at the SCA event, Gulf Wars, some time during the week of March 9th through the 16th of 2013. There was to be a CD release concert at The Green Dragon Tavern.
But due to medical issues, things had to be delayed for a March release – even for a 2013 release. We performed a CD release concert at Gulf Wars 2014 on Wednesday, March 12th:). The CD was made available that night for folks who were there.
And the album is now available at several digital music stores, including iTunes:


That link on the left there will allow you to get diigital OR physical CDS. Amazon is the only place you can get physical CDs at the moment, unless we are at an SCA event and can get it from a merchant there. CD Baby used to sell physical CDs, but have decided to just let Amazon handle that.
You can download the liner notes for the album, which contains lyrics for all the songs and other information. Go HERE for more details on getting those.
Cheers!
Ken