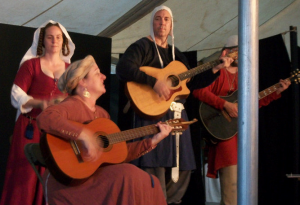 Ken and Lisa Theriot (Kenneth MacQuarrie and Adelaide de Beaumont in the SCA) will be performing live at the fabulous Green Dragon Tavern, Tuesday March 15th 2011 from 8-9 pm during Gulf Wars XX.  Come join the music and revelry as Kenneth and Adelaide and the rest of "the band" (Ambra Micheli, Grimolfr Einarsson, Michele de Buzbee and Cynric of Bedwyn) fill the Dragon with their SCA hits such as Agincourt, Band of Brothers, The Feast Song, The Harvest, The Tabard Inn, Seek The Reaper and many more.  Plus, a few songs from their new CD, "The Gifts of Midwinter," will also make their debut.
Copies of their CDs will also be available throughout the evening.
That's Tuesday night at Gulf Wars, at The Green Dragon, at 8:00.  See you there!