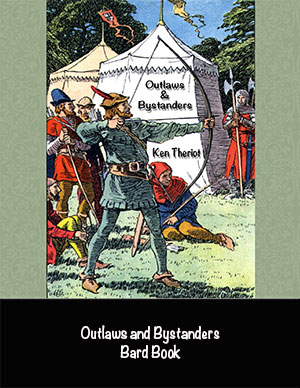 It's here – finally:). It's the Outlaws and Bystanders Bard Book. That means this book is meant for people wanting to perform the songs from Ken Theriot's album, "Outlaws and Bystanders." It is set up with just lyrics and chords for each of the 12 songs on the album (listed below), and you won't have to turn a page in the middle of a song:). All of the songs completely fit on either one or two pages.
This is a pdf download, so you can print it out and take it along with you to Gulf Wars (coming up soon!) or anywhere you think you might feel like breaking out in song:).
CLICK HERE to grab your copy for just $4.99.
Below are the songs included in the book, which is every song on the album.*
1. Soldier of God
2. Utopia
3. Robin Hood and the Beggar Knight
4. Morte d'Arthur
5. The Dragon
6. Lament of the Combat Archer
7. Dogs of War
8. Little Egypt
9. William Tell
10. Men of the Isles
11. Queen of Lilies
12. The Ride of El Cid
To download your copy of the Outlaws and Bystanders Bard Book for just $4.99, CLICK HERE.
*This isn't always possible, especially if you are recording songs written by other people (printing lyrics is a WHOLE different ball of wax in the world of copyright). But since all songs were written by Ken and Lisa Theriot (save "Queen of Lilies," by David Thewlis and Sherry Kramer), it's not a problem.