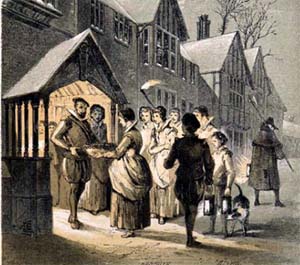 Drink to the Holly Berry is an original Christmas song about that age-old tradition of caroling and begging for booze, basically. Who doesn't like a good wassailing song at this time of year?
The song is from the Christmas album, The Gifts of Midwinter, by Ken and Lisa Theriot. Below are lyrics and notes on the song written by Lisa Theriot on the liner notes for the album, which you can download here (pdf file). But first, of course you can listen to it here:
Music Video

Drink to the Holly Berry
I wanted a wassailing song on the album, and when we
looked at all the ones we knew, Ken said, "Why don't we
write one?" So we did. Hey, we're musicians—we know how
to beg for booze.
Chorus: Drink to the holly berry,
With a hey down, hoe down derry!
Just bring us ale, and good wassail,
And we shall all be merry.
Good Master, good mistress, and all of your kin,
We come bringing good Christmas cheer;
We'll sing you a song
And it won't be too long
The least you can spare is some beer.
Please give us a moment before we begin,
Refreshment is all that we need;
A bowl is the thing
And the better we'll sing
The least you can spare is some mead.
But open and let we poor carolers in
To stand at your table so fine
The night it is cold
And we won't ask for gold
The least you can spare is some wine.
Remember that charity keeps you from sin;
The Lord sees the good that you do!
And when we're all rich
And you live in a ditch
We'll happily share ours with you!
Words by Lisa Theriot
Music by Ken Theriot
© 2010 Raven Boy Music, ASCAP
Note: The chorus is based on a traditional refrain:
Drink to the holly berry
With a hey down, hey down derry
The mistletoe we'll pledge also
And at Christmas all be merry
If you'd like to grab the album or individual songs on iTunes, go here:

If you'd like a physical CD, you can get that – as well as digital versions of the songs and/or album – on CD Baby here: