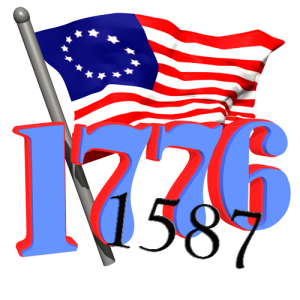 Americans tend to think of George Washington and the other founding fathers when we think about Independence Day.  Some folks may even remember that there was a much earlier group of colonists from England, even before the Mayflower, in the early 1600s in Jamestown.  But how many of us give any thought to the first English colonists in America?  I am referring to the Roanoke Colony of the 1580s.
If anyone knows anything at all about them, they probably think mostly about the fact that 115 of them went missing without much of a trace.  It's a great historical mystery.  But one thing that is not often told is why most of those colonists, the men, women and children who disappeared between 1587 and 1589, chose to make the voyage to America.
There is a fair amount of evidence to suggest that religious freedom was a primary cause.  There is more than a fair amount of evidence that English politicians had a massive role to play in the events that ultimately played out, even from across the Atlantic Ocean.  Hmm.  Sounds like the beginning of a pattern that would culminate in the Declaration of Independence almost 200 years later.
If you'd like to learn more about the fascinating Lost Colony of Roanoke, I highly recommend looking into an excellent book, Roanoke: Solving The Mystery of The Lost Colony by Lee Miller.  Then there is also the song Fifty Miles Into The Main, by Ken and Lisa Theriot, from the album Human History, which can be heard here: Lost Colony Song.