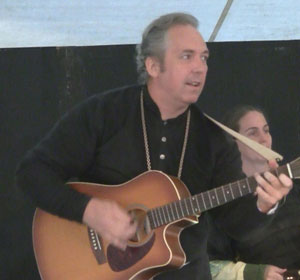 Ken Theriot is a singer/songwriter and has been performing his brand of pop-folk for about 15 years. He has released four CDs with Raven Boy Music, the most recent (solo CD) being the long-awaited new "Human History" in March of 2008. The CD consists mainly of songs that view famous historical (usually medieval or older) events from the point of view of a single character who was there. The result is a series of songs that make make you think, laugh, cry while enjoying the excellent folk-pop music that brings the songs to life.
Most recent is the Christmas album The Gifts of Midwinter, which was a joint project with Lisa Theriot.
Coming in January 2014 will be the new CD Outlaws and Bystanders, which will focus on – well – outlaws from history and legend along with lesser-known characters who nevertheless, played vital roles while being relegated to the sidelines.